We proudly present the new chatbot of Beter Bed. Chatbots.expert has designed a chatbot for one of largest sellers of beds in the Netherlands; Beter Bed. The chatbot will be available through Google Assistant, Facebook Messenger and the Beter Bed website. As a customer, you can use the chatbot to ask a question or make an appointment. For the time being, only relatively simple questions will be answered, but soon, questions on advice will also be answered.
Finding a new bed has never been so easy
The chatbot is designed to help customers find the right bed. A bed should suit your needs, your budget, and last but not least, it should be comfortable! That's why Beter Bed wants to make it as easy as possible for customers to obtain information about their beds. An advantage of the chatbot is that questions can be answered in a quick and clear manner. The chatbot is available through text and buttons in Facebook Messenger and on the website. It can also be commanded by voice when using Google Assistant. In the near future, the virtual assistant will also be present in the physical stores, so that customers can ask questions there as well. One instance for which this would be useful is when all sleep specialists in the store are already helping other customers. Everything is set to serve the ultimate goal of making shopping as smooth as possible and giving customers a great experience.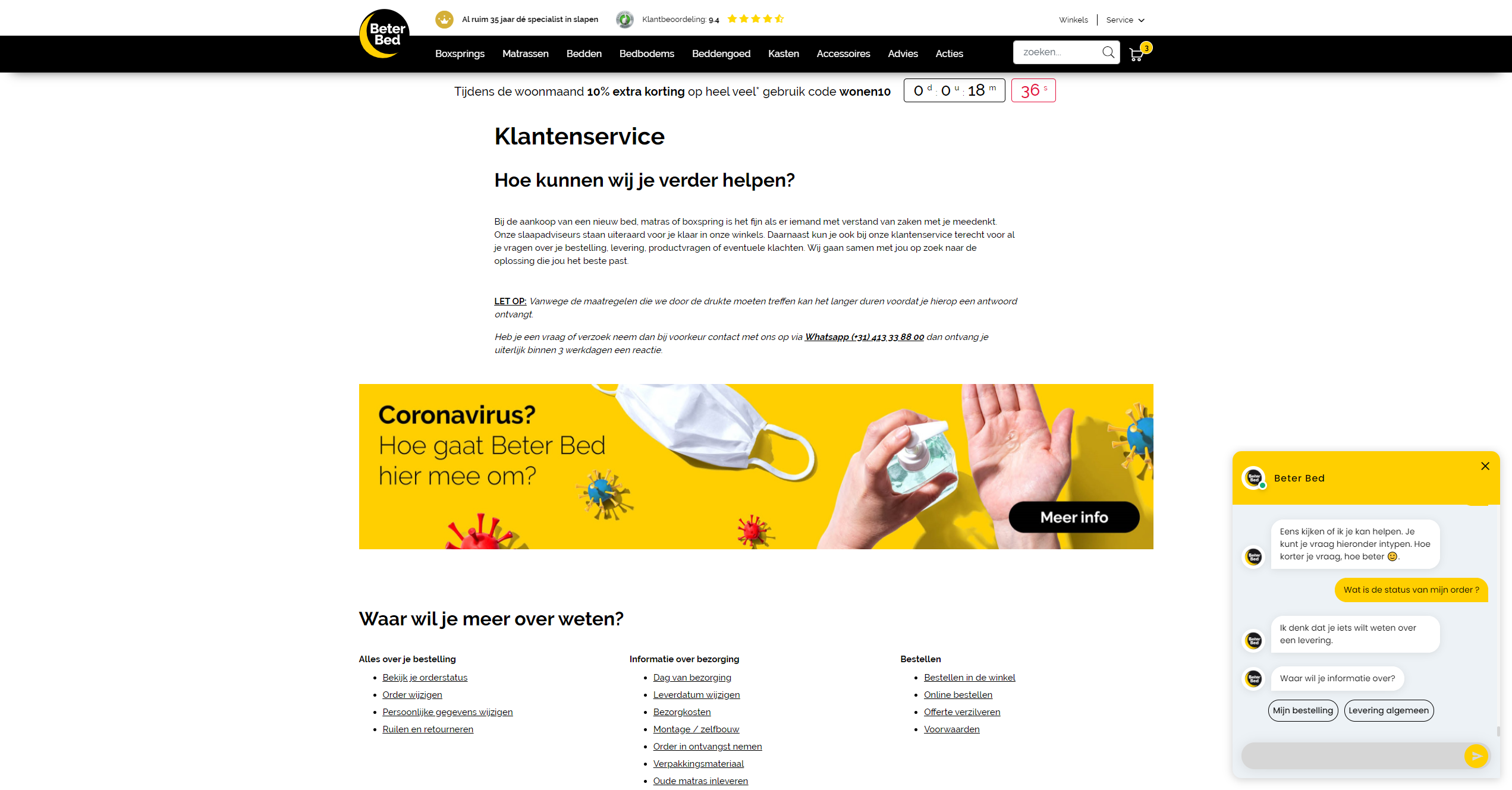 The customer is king
One of the key characteristics of the chatbot is its availability through day and night. This 24/7 service enables the customer to ask questions whenever it suits him. This is great as you no longer have to choose a moment between 9 and 5 on a busy working day to call the customer service. Whether you're sitting on the couch at night or are still lying in bed on a Saturday morning, you can always ask your questions. The chatbot is able to answer most questions, but if a question pops up for which the bot has not yet been trained to answer, the customer will be redirected to customer service whenever it is opened. The chatbot is also suited to make appointments in the store or ask/answer questions about previously purchased beds. Soon the chatbot will even give personalized advice. After customers have made an appointment in a Beter Bed store, the in-store advisors will take the time to prepare for the specific needs of this customer. As a customer, you will always receive the best advice, whether it is inside the store or online.
Win-win for both the customer and Beter Bed
Beter Bed has an extensive customer service team that is available every working day to answer customers' questions. Of the 1,600 questions that the team receives on an average day, a large proportion is recurring and therefore, the answers to these can easily be automated. It is this automation that takes place inside the chatbot. This relieves the pressure on customer service and allows customers to get an answer to their questions in an even easier and faster way. Questions coming in through the chatbot that really ask for personal attention from an employee, will be redirected to customer service, where an employee will take the time to give the best answer possible. In addition to improving the quality of customer service, the chatbot is also fully scalable, which means that it is able to help many customers at the same time. As we all know, Beter Bed likes to be known for its
extremely customer-oriented service. Chatbots.expert is proud to have succeeded in helping Beter Bed to achieve their goals, focusing on digitalization, innovation and efficiency. At Beter Bed, the customer comes first and at Chatbots.expert, we are happy to help doing this.
Our technique
For this project we have used our Conversational AI platform Antonic.ai, which can be used to build highly user-friendly chatbots. In doing so, the company creates a natural way of conversating with customers.